Irish Golfer Event Series
The 2021 Irish Golfer series consisted of 16 events open to all with a Golf Ireland handicap index. All events were singles stableford competitions played off full handicap. All events were handicap counting. Over €5000 in prizes was won at each event split between 12 prize winners. Entry was €50 for members of host clubs or €60 for guests.
Over €5000 of Prizes At Each Event
1st, 2nd and 3rd place prizes are awarded in each category plus nearest the pin (one front 9 + one back 9) and a best gross prize at every event. Entrants are split into three competition categories. Category #1 Gents, up to 11 Handicap index / Category #2 Gents, 12-24 Handicap index / Category #3 Ladies, up to 36 Handicap index. The three category winners at each event also qualify for the Grand Final.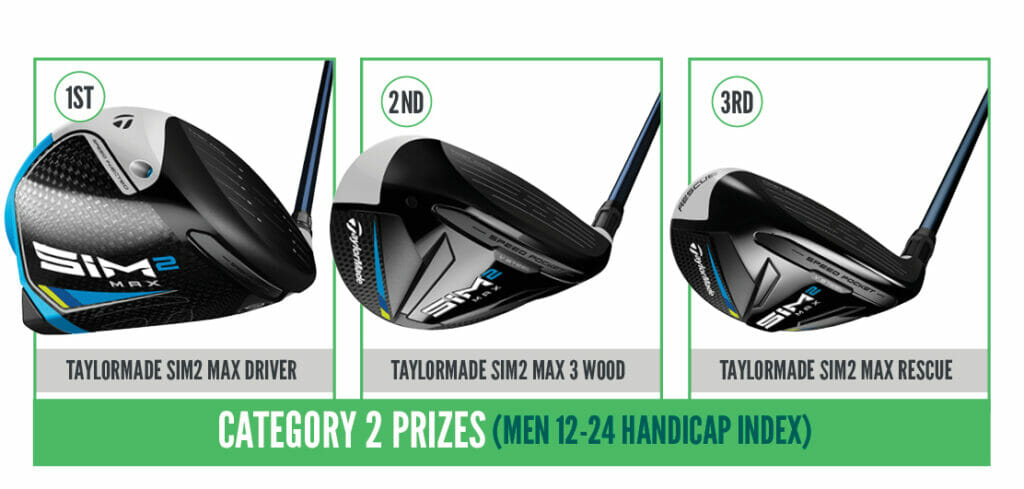 Nature Valley Order of Merit
If you don't qualify for the Grand Final as one of the category winners from the events automatically you can still qualify through the Nature Valley Order of Merit. Your best four scores across the year will be counted and the Top 10 players not already qualified for the Grand Final will win a place at the Grand Final in October.
Win a full set of TaylorMade Clubs
Every time you enter an Irish Golfer Event you will be entered into a draw to receive a full custom fit set of TaylorMade clubs worth over €2500. The prize includes a SIM2 Driver, SIM2 3 Wood, SIM2 Rescue, SIM2 Irons, Hi-Toe wedge, Spider putter and TaylorMade stand bag. The draw will take place at our Grand Final in October 2021
Select one of our events from the list and click on the 'Book Now' button and you will be directed to our timesheet. You can book as a single player, or with friends and payment is taken in full at the time of booking for the number of players booked.
If you have any queries or wish to be added to our mailing list for event updates contact us on events@irishgolfer.ie or call the events team on 01 5036090 / 5036099
Bookings can be cancelled up to 48 hours prior to the starting time of the event booked to receive a full refund.
Bookings cancelled after this point forfeit the full amount paid. To request a booking cancellation email events@irishgolfer.ie.
Bookings and all prizes are not transferable unless prior agreement has been given from Irish Golfer Events.
All entrants must have a Golf Ireland Handicap Index and every Irish Golfer event is handicap counting.
Decisions taken by the Tournament Director on the day of play and event decisions are full and final.
Match Play Media will not share any data entered for the purposes of golf event entry with any third parties unless legally required to do so. Irish Golfer Events are run by MatchPlay Media Ltd, Kinsealy Grange, Chapel Road, Portmarnock, Co. Dublin, D13 A5R2. The payment page is a redirect to a URL for the SagePay Payment Gateway.