To truly get your eye in, why not improve your golf using statistics collected from Shot Scope.
What is Shot Scope?
Shot Scope is a GPS golf watch that comes complete with a statistic recording and analysis system (performance tracking) within the watch. It allows golfers that use Shot Scope V2 to improve, and golf coaches to improve their focus and direction of lessons with said Shot Scope user. Stat recording is widely regarded as being vital in golf improvement and Shot Scope V2 is the only GPS watch on the market with a full performance tracking system.
How can Shot Scope improve your golf?
Shot Scope highlights the strengths and weaknesses in your golf game. It eliminates biased opinions and emotions that you (and your coach) may have about your game. It presents clear statistics on all aspects of the game to help you to structure your practice better and prepare for the season ahead. Shot Scope also outlines how far you hit each club, based on the shots you hit on the course – more accurate than getting club distances on the range or even guessing! It can help identify which Driver is the most accurate, or goes the furthest, and many other insights to help you get the most out of your game.
Why is Shot Scope the best performance tracking system?
Shot Scope is unique. It is easy to use and designed for players of all standards; from beginners, right through to touring professionals, like Tiger Woods or Rory McIlroy. The concept of both GPS yardages and a performance tracking system in one watch is second to none. Why wouldn't you want to know how to improve your game? The unique selling point of Shot Scope V2 is that is provides a fully automatic tracking system. There is no tagging of shots required and certainly no phone needed on the course – the watch, on your wrist, does everything for you. Simply wear the watch whilst you play and reap the benefits. Shot Scope also offers off-course competition through the interactive Leaderboards and Medals feature. Compete against other Shot Scope users all over the world, or make private Leaderboards to compete directly amongst your friends.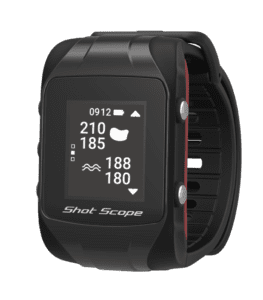 How do you record your stats?
Simply wear Shot Scope V2 on your wrist whilst playing a game of golf. Select the GPS+Track mode and off you go. Shot Scope V2 uses Clubsense TechnologyTM to automatically recognise which club you are using and where you are located on the golf course. It plots every shot hit on a map of the course so you can see every shot in the round. Upload your round to your phone via Bluetooth or plug in to the computer to view your round and begin analysing your statistics.
How do you analyse your golf statistics?
Analyse your statistics on the free Android or iOS mobile apps or on the Performance Dashboard. There are over 100 statistics available on your game on the Performance Dashboard, whereas the app provides a more concise analysis.
How much does Shot Scope V2 cost?
Shot Scope V2 retails for €199. You can buy direct from Shot Scope, McGuirks or Amazon.